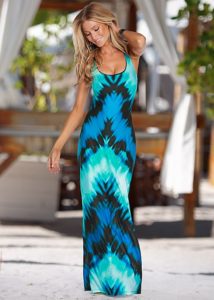 Summer 2016 Clothing Trends for Women Who Do Not Wear Shorts
There are millions of women who avoid wearing shorts. Whether it is due to age or body issues, choosing to not wear shorts is okay because there are so many other fashion pieces that are perfect for summer weather.
Luckily, there are some beautiful summer clothing trends perfect for women who choose not to wear shorts in public. With these amazing pieces in your wardrobe, you will never miss wearing shorts again!
Maxi Dress – Maxi dresses are hotter than ever! You'll want to select one that hits right above your ankles and done in a chic boho print for a trendy look this season.
Maxi Skirt – Like the maxi dress, these skirts are right on-trend for the season. Select a few of them in fun prints or classic solids and pair them up with the next item on our list.
Hi-Low Top – These tops feature a shorter front hem and a longer back hem. They are super comfortable to wear and are very figure flattering on all body types. They are a great piece to wear with a trendy maxi skirt for a complete boho chic look.
Hi-Low Skirt – Just like the hi-low top, the skirt has a shorter front hem and a longer back hem. They are figure-flattering and help to elongate the look of your legs.
Open Front Cardigan – Cardigans have come a long way and this year invest in 1-2 open front cardigans (no buttons or zipper closures) that really show off your figure nicely. They can be worn over tops, blouses, tanks and sleeveless maxi dresses or skirts with ease.
Classic Shrug – If you're going to be wearing a lot of maxi dresses, sleeveless tops and/or tanks, invest in a high-quality shrug. They're great for covering up your arms while sitting in air conditioning or to extend the life of your summer clothing as we head into Fall and the cooler months.
Palazzo Pants – Remember these from the late 60's and 1970's? Well they're back! Select these wide-leg beauties in a variety of fun prints and classic solid colors!
You can pair up all of these HOT and right on trend summer fashions with a pair of open-toe clog sandals from Superior Clogs! Our sandals are fashionable, comfortable, and will last you for many years with proper care.